Release Date

USA - 16th Sept 2008
UK - 15th Sept 2008
Track List
1. Great Day [LYRICS]
Written by Lindsey & Will Buckingham

2. Time Precious Time [LYRICS]
Written by Lindsey Buckingham

3. Did You Miss Me [LYRICS]
Written by Lindsey & Kristen Buckingham

4. Wait For You [LYRICS]
Written by Lindsey Buckingham

5. Love Runs Deeper [LYRICS]
Written by Lindsey & Kristen Buckingham

6. Bel Air Rain [LYRICS]
Written by Lindsey Buckingham

7. The Right Place To Fade [LYRICS]
Written by Lindsey Buckingham

8. Gift Of Screws [LYRICS]
Written by Lindsey Buckingham

9. Underground [LYRICS]
Written by Lindsey Buckingham

10. Treason [LYRICS]
Written by Lindsey Buckingham
All songs produced by Lindsey Buckingham
(except tracks 4 & 8 which were produced
by Lindsey Buckingham & Rob Cavallo)

Images
please click on image to open a larger image window
Single Releases
Did You Miss Me
Did You Miss Me is set for radio release and will be available
for purchase on July 29th in the US and Sept 14th in the UK
Single Availablilty
Love Runs Deeper
Love Runs Deeper was released to radio as a
promo CD single
Gift Of Screws EP
An EP for Gift Of Screws was released for digital
download on 16th Sept 2008, tracks include...
Did You Miss Me
Love Runs Deeper
Did You Miss Me (KBCO Studio C Sessions)
Time Precious Time (KBCO Studio C Sessions)
Big Love (KBCO Studio C Sessions)
Wait For You (Track Commentary, Video)
Love Runs Deeper (Track Commentary, Video)
Vinyl Release
Limited Edition 180 gram vinyl release of 'Gift Of Screws
Gift Of Screws is presented as a vinyl set featuring one 180g heavyweight
black vinyl disc in a Stoughton jacket with bonus CD in paper sleeve.
Features:
• 180 Gram Vinyl
• Recorded, Mixed and Mastered on Analog Tape
• Plating & Pressing at R.T.I.
• Heavy-Weight Stoughton Jacket
• Bonus Audiophile CD of entire album
• CD from the Uncompressed Vinyl Master (this is probably incorrect as sources
indicate that the CD is the standard CD release)
--
Song Notes
Songs from
The Gift Of Sessions Bootleg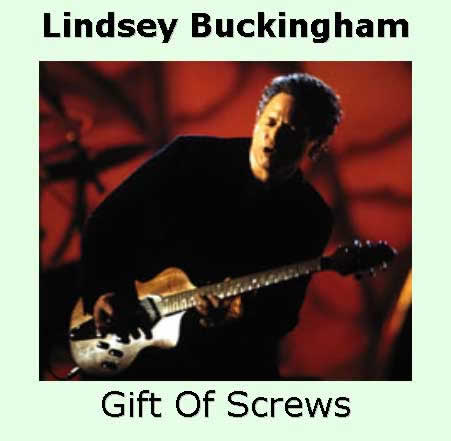 "The Right Place to Fade"
is the same as
"Twist Of Fate" from the GOS Sessions

"Wait For You"
is the same as
"Shuffle Riff" from the GOS Sessions

"Gift Of Screws"
is the same as
'Gift Of Screws" from the GOS Sessions
Press Release
BURBANK, Calif., Jul 15, 2008 (BUSINESS WIRE) -- Warner Bros. Records will release the fifth solo album from singer, songwriter, and guitarist Lindsey Buckingham, entitled Gift of Screws, on Reprise Records September 16, 2008.
Gift of Screws unites the broad appeal Buckingham showed as the main musical force behind Fleetwood Mac with the restless spirit of experimentalism he's shown on landmark Mac albums as Rumours and Tusk, and on his own visionary solo albums. It's the sum of Buckingham's labors of musical love and dedication, with all the joys and struggles that have come along the way.
"I'd say this album distills several periods of time," Buckingham says. "It has false starts to make albums, songs that go back a number of years that took a while to find a home, and brand-new songs. I wanted to bring it all together in one place. As an artist I'm still, for better or worse, clinging to my idealism and to my sense that there is still much to be said. This album is a culmination of that."
Gift of Screws is a rocking complement to Buckingham's previous album, 2006's acoustic guitar-driven Under the Skin, balancing such layered guitar-and-voice contemplations as "Time Precious Time" and "Bel Air Rain" with the seductive rush of the title song and the opener "Great Day." In some ways it's also an extension of his Fleetwood Mac legacy as Mick Fleetwood and John McVie provide the unmistakable foundation on several songs, including the embracing "Wait for You" and the gloriously mad title song. Showcased throughout are Buckingham's noted virtuosity as a guitarist, as well as his expressiveness as both a singer and writer.
Largely written and recorded both at his home studio and in solo hotel room sessions during his Under the Skin tour (an electrifying set of concerts documented on the 2008 DVD/CD package Live at the Bass Performance Hall), Gift of Screws was produced by Buckingham, with the exception of two songs -- "Wait For You" and the title track -- that were co-produced by Rob Cavallo (Green Day, Jewel, Dave Matthews Band).
Last fall, Buckingham embarked on his first U.S. solo tour in nearly 14 years, which continued through the summer. He will tour the U.S. in support of Gift of Screws through September and October. Please visit Buckingham's website, http://www.lindseybuckingham.com/, for details.
SOURCE: Reprise Records
Reprise Records Publicity
Luke Burland, 615-214-1489
luke.burland@wbr.com
or
Nikki Herceg, 615-214-1489
nikki.herceg@wbr.com
Additional Articles