September 2005

LINDSEY BUCKINGHAM AND LITTLE BIG TOWN
COME TOGETHER FOR THE LATEST INSTALLMENT OF
"CMT CROSSROADS"



New Episode Premieres Saturday, December 2 on CMT




NASHVILLE – September 21, 2006 – Rock icon and former Fleetwood Mac front man Lindsey Buckingham will share the stage with smash country group Little Big Town for the newest episode of CMT's landmark performance series, CMT CROSSROADS, set to premiere Saturday, December 2. The performance will tape in Nashville before an invitation-only audience on October 5.

CMT CROSSROADS pairs country music stars with popular artists from other genres—pop, rock, R&B—to play together, swap stories, and share their common love of music. Recent episodes of CROSSROADS have included Steve Earle and Rosanne Cash; Bonnie Raitt and Lyle Lovett; Lionel Richie and Kenny Rogers; Bon Jovi and Sugarland; and John Fogerty and Keith Urban.

Since 1975, when he and Stevie Nicks joined Fleetwood Mac, Lindsey Buckingham has lent his unique talents as a singer, songwriter, producer arranger and guitarist, to some of the biggest selling albums of all time. Rolling Stone magazine calls him "one of rock's most undervalued visionaries." He was largely responsible for masterminding the sound of the new Fleetwood Mac heard on Rumours, the band's multi-platinum masterpiece. Never content with the status quo, Buckingham refused to settle for mere commercial excellence and continued to push one of the most popular rock and roll bands in the world to the cutting edge of rock/pop experimentation, exemplified by the groundbreaking, and critically acclaimed, Tusk. His first solo album in nearly 15 years, Under the Skin, is due out on Reprise Records October 3. It follows Out of the Cradle (1992), which The New York Times called "one of the most exquisitely textured rock albums ever made."

For more information on CMT CROSSROADS log on to CMT.com

August 2006
New Solo Album and Tour Announced


According to his official website, Lindsey Buckingham is releasing a new
acoustic album in October. The album, titled "Under The Skin," represents
Buckingham's first solo venture in 14 years.

Buckingham has dabbled with solo projects since the late '90's, but
amalgamated his work, with that of Stevie Nicks, into Fleetwood Mac's
critically-acclaimed 2003 album "Say You Will."

The Rock and Roll Hall of Famer has also announced that, following the album
release, he will be going on tour across the U.S.

Buckingham's other solo albums include 1981's "Law and Order," 1984's
"Go Insane," and his 1992 project, "Out Of The Cradle."

More details are available on the links below:
February 2006

Lindsey Buckingham: Soundstage
UK DVD Release on Apr 24th 2006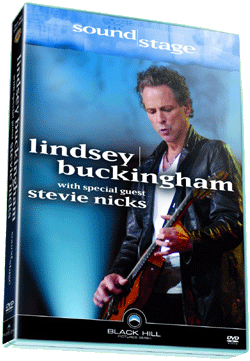 Order this DVD from Amazon UK

The UK release has the same track list as the USA release but has
some additional extras:
Biography
Discography
Soundstage Information
--
Lindsey Buckingham appears on Elizabethtown Soundtrack Vol. 2



Order this from Amazon UK

The live version of Big Love appears on vol. 2 of the soundtrack

December 2005


Lindsey is guesting on Antsy McClain's debut album
"Time-Sweetened Lies" on the track 'When Ruby Falls'

You can download a brief song sample at the below site address
http://www.antsy.net/music.htm

September 2005

PBS Soundstage to air on the 8th Sept 2005

Lindsey's management has given their final approval for his PBS Soundstage to air in September. Soundstage will make its debut on PBS Thursday, September 8th, 2005.

Songs broadcasted:

Someone's Gotta Change Your Mind
Trouble
Big Love
Go Insane
Down On The Rodeo
Peacekeeper
Red Rover
Never Going Back Again (w/Stevie Nicks)
Say Goodbye (w/Stevie Nicks)
Murrow Turning Over in his Grave
Go Your Own Way

Video Clip of Trouble available here

A DVD of this performance has been released and you can order the
US (region 1) version below by clicking on the cover

The DVD contains two extra songs not on the TV Broadcast
Steal Your Heart Away
I Am Waiting
August 2005

New Lindsey Song on 'Elizabethtown' Soundtrack

The full track list has been confirmed for the soundtrack to "Elizabethtown," Cameron Crowe's highly anticipated new film. Due Sept. 13 via RCA, the project features exclusive tracks from Tom Petty, Fleetwood Mac guitarist Lindsey Buckingham, and My Morning Jacket......

Link to full Billboard Article
http://www.billboard.com/bb/daily/article_display.jsp?vnu_content_id=1001019849
Link to Lyrics
Shut Us Down Lyrics
Lindsey's new track is Shut Us Down and is listed as being track 10
UK release date is 19th Sept 2005



Order this CD from Amazon UK


April 2005
Lindsey Demos / Mixes leak on eBay
Some new Lindsey Buckingham songs were leaked onto the auction site eBay on the 27th April 2005. The auction has been ended early by the seller before the auction completed, the text given regarding the CD is posted below:
EAST END MANAGEMENT CO.
LINDSEY BUCKINGHAM
NEW MIXES
1 IS IT RIGHT
2 I AM WAITING
3 PEACEKEEPER (MY MIX)
4 WHAT'S THE WORLD COMING TO (UNEDITED)
THESE ARE NOT NECESSARILY FINAL CHOICES
(ALL ONE TRACK, ID'S NOT MADE)

Lindsey Solo Album - End of 2005?

The ask billboard section has posted a new blurb on the status of Lindsey's up and coming solo album
Meanwhile, band member Lindsey Buckingham is at work on a forthcoming studio album, which he hopes to release by the end of the year.
The complete article is below:
Hi Keith,

Do you see another tour for Fleetwood Mac this year? Do you think they will tour Canada and other parts of the United States?

Jill Douglas

Hi Jill,

It's unlikely that Fleetwood Mac will mount another tour in 2005 as the band band wrapped up its 2003-2004 world tour in September.

Currently, the Mac's Stevie Nicks is prepping to stage a special "Dreams" show at the Colosseum at Caesars Palace in Las Vegas. The four-night event (May 10-11, 13-14) was created exclusively for the venue, which is also home to Celine Dion's "A New Day" and Elton John's "The Red Piano." Tickets go on sale March 19 through the Caesars Palace box office and Ticketmaster.

Meanwhile, band member Lindsey Buckingham is at work on a forthcoming studio album, which he hopes to release by the end of the year. The Mick Fleetwood Band (Fleetwood, Todd Smallwood and Lauren Evans) issued "Something Big" in September 2004. Christine McVie -- who did not participate in the Mac's Say You Will tour -- released her solo album "In The Meantime" set last September as well.

Fleetwood Mac's most recent studio album, "Say You Will" (2003), debuted and peaked at No. 3 on The Billboard 200 and has sold 844,000 copies in the United States, according to Nielsen SoundScan. Nicks' latest solo set, "Trouble in Shangri-La," debuted and peaked at No. 5 in 2001 on the same chart and has moved 648,000 copies.

Nothing has been announced officially regarding any upcoming album releases from either Fleetwood Mac or Nicks.

January 2005

Lindsey's New Year Message
Since the Fleetwood Mac tour ended in September, Lindsey has been working on a new project. We received this update from Lindsey:

"It was great to see everyone out on the road this last year. I'm feeling more creative than ever right now, and I'm working on a new solo project which I expect to have out sometime this year. Thanks for your support"
August 2004

Lindsey plays acoustic guitar on Vanessa Carlton's
new single 'White Houses'
Vanessa Carlton will release Harmonium, the follow-up to her 2002 Grammy-nominated debut Be Not Nobody, on October 19th. The album's first single "White Houses," featuring Fleetwood Mac's Lindsey Buckingham on acoustic guitar, will hit radio in August.
Additional Info from http://www.vanessa-carlton.net

VANESSA CARLTON
White Houses
Producer(s): Stephan Jenkins
Writer(s): V. Carlton, S. Jenkins
Publisher(s): not listed
Label/Catalog Number: A&M 11209 (CD promo)
Source: Billboard Magazine
Originally Reviewed: August 21, 2004

It has been nearly 21/2 years since Vanessa Carlton launched one of the most enduring songs of the millennium with the enchanting "A Thousand Miles." A lot has changed since then, with the proliferation of today's ubiquitous girl grunge, à la Avril Lavigne, Ashlee Simpson and even Hilary Duff. So "White Houses" is all the more welcome of a return because, thankfully, it bears the do-it-my-way signature of a singer/ songwriter who relies on piano; a meandering, storytelling lyrical style; and deceptively sweet vocals that underlie an intellectual bent. Carlton wrote the song with her main squeeze, Third Eye Blind's Stephan Jenkins, who also handled production duties. The result is a highly original composition that makes you really want to listen and understand—and then sing along. From the upcoming "Harmonium," due Oct. 19.—CT
June 2004

Radio Interviews
Lindsey gave two radio interviews to LA based radio stations on the 16th June 2004
The radio stations were as follows:

Arrow FM 93.1
KLOS 95.5 (with Mark and Brian)

http://www.bluewhitefire.com
have posted the audio clips
Destiny Rules DVD Available to order
Destiny Rules:
The Say You Will Documentary


Sanctuary Visual Entertainment is proud to announce the September 6, 2004 DVD release of
"Destiny Rules;" a fascinating fly-on-the-wall documentary which captures the legendary
Fleetwood Mac as they set about recording 2003's celebrated reunion album "Say You Will".
Two DVD Set

available from

Single DVD

available from
May 2004

Soundstage DVD Release Date?
A Dutch DVD website is listing Lindsey's Soundstage DVD to be
released on the 26th Oct 2004
http://www.dvd-home.nl/
Lindsey Writing Like Crazy...
Lindsey gave a brief interview to the Washington Times
"More good news is that Mr. Buckingham, the songwriter, is as busy as ever. He reported, "The last six months, I've been writing like crazy."
read more here......
Fleetwood Mac: Live in Boston 2003 for Release


The Fleetwood Mac's Soundstage performance (recorded in Boston last September) is scheduled to be released on June 15th in the USA and July 19th in the UK

This release contains 2 DVDs and a CD of the live show
DVD1: The Chain / Dreams / Eyes of The World / Peacekeeper / Second Hand News / Say You Will / Never Going Back Again / Rhiannon / Come / Gypsy / Big Love / Landslide.

DVD2: Say Goodbye / What's the World Coming To / Beautiful Child / Gold Dust Woman / I'm So Afraid / Silver Springs / Tusk / Stand Back / Go Your Own Way / World Turning / Don't Stop / Goodbye Baby.

CD: Eyes of the World / Dreams / Rhiannon / Come / Big Love / Landslide / Silver Springs / I'm So Afraid / Stand Back / Go Your Own Way.

A two hour version of the concert will also be televised on PBS on June 17th. (US TV only) Be sure to check your local listings!

The Press Release from Reprise can be found at this link
You can purchase the DVD/CD set here from Amazon.co.uk

Buckingham Nicks Live Tracks Unearthed
Four fantastic sounding live tracks from a 1974 concert at Tuscaloosa, AL have been unearthed and our posted on our sister site 'Go Your Own Way' at this link
http://www.fleetwoodmac-uk.com/songofthemonth.html
Also a 1975 news article has been posted about the last concerts of Buckingham Nicks has been posted here.....
2004 Fleetwood Mac Tour
Lindsey and Fleetwood Mac are gearing up for the third North American leg of the Say You Will tour which starts on Sat 8th May at Madison, WI
See the concerts page for more details...
Lindsey on CNN Headline News
Lindsey gave a brief interview to CNN Headline News on 05-05-2004 before Fleetwood Mac performed at a corporate MTV trade only event in New York.
Read it here.....
April 2004

Lindsey - A Father for the third time
Lindsey and Kristen Buckingham have become the proud parents of their third child, a baby girl 'Stella' who was born on Tuesday, April 20th 2004.

March 2004

Unreleased Lindsey songs on re-mastered Fleetwood Mac releases
Fleetwood Mac albums Tusk, Rumours and Fleetwood Mac have been reissued and
remastered with additional unreleased material that includes unreleased songs from Lindsey. These albums were released 22nd March 2003

The tracks from Lindsey are as follows

Fleetwood Mac Tracks
Jam #2 *
Blue Letter (Single Version)

Rumours Tracks
Second Hand News
Brushes (Never Going Back Again)
Go Your Own Way
Never Going Back Again
Butter Cookie (Keep Me There)
Doesn't Anything Last *
Mic The Screecher *
For Duster (The Blues) *

Tusk tracks
Can't Walk Out of Here (The Ledge)
Lindsey's Song #1 (I Know I'm Not Wrong)
Lindsey's Song #2 (That's All for Everyone)
Out on the Road (That's Enough for Me)
Song #1 (I Know I'm Not Wrong)
Song #3 (Walk a Thin Line)
Kiss and Run
Farmer's Daughter

* Unknown composer





See unreleased tracks here




Pre-Order these releases here

View the Fleetwood Mac booklet pictures here
View the Rumours booklet pictures here
View the Tusk pictures here


Lindsey guests on Vanessa Carlton's album 'Harmonium'
Lindsey plays on Vanessa Carlton's forthcoming album 'Harmonium', due in June,
Lindsey plays acoustic guitar on what s probably the first single 'White Houses'


Fleetwood Mac: Destiny Rules
Aired on US TV on channel VH-1 on Sunday 14th March


Starting in the fall of 2001, filmmakers Matt Baumann and Kyle Einhorn follow
Fleetwood Mac's every move as they reunited (sans Christine McVie) to
record their first new studio album in 15 years.

Culled from over 500 hours of footage, the documentary follows the band members as they record Say You Will and prepare for a world tour. Cameras, including a few hidden ones, rolled almost nonstop from Stevie Nicks's first day in the studio until the band walks onstage for its first show a year and a half later.

Fleetwood Mac: Destiny Rules captures the ups and downs of a legendary band like no other documentary before ... and proves that time doesn't always heal all wounds.
Unfortunately we have no dates for UK / Europe airing of this show

You can view the documentary online at the following sites:
http://www.crystalvisionsdesigns.com/steviesounds.html
http://www.burnish.net
February 2004

Lindsey touring in Australia
Fleetwood Mac are currently on tour in Australia
Check out the dates here


January 2004
Fleetwood Mac on New Year's TV Show
Lindsey performed Second Hand News with Fleetwood Mac on the
Dick Clarke NYE's show which was shown on ABC (US TV only).
The clips were recorded at the Boston show in Sept 2003
http://abc.go.com/specials/new_years_2004.html
December 2003

Lindsey on UK Radio
Lindsey appeared on Virgin Radio
on Sunday 7th Dec at 22.00

You can listen to the clips here
http://www.fleetwoodmac-uk.com/stillgoinginsane

November 2003

Lindsey touring in Europe
Fleetwood Mac are currently on tour in the UK,
See these live pictures taken at Birmingham on 26th Nov 2003




More pictures posted here and on the picture page

October 2003

Finishing touches to the Soundstage Recording
Last Friday night (24th Oct 2003), Lindsey was over at Cornerstone recording
studio helping to mix & overdub the upcoming Soundstage show on public television. Before Fleetwood goes to Europe, Lindsey is full speed ahead on the PBS project.
He's in great spirits about Fleetwood Mac these days, & re-emphasized that it's "important to me to record with them again."

At Cornerstone, he was laying down what was described as a "somewhat
strange-sounding acoustic guitar overdub" for "Go Your Own Way." He also
talked to someone about having wanted to lay down some guitar tracks for
Tyler Hilton's upcoming album on Maverick (www.tylerhilton.com), but the tour preparations last spring sucked up his time.
(thanks to David for this info)


Say You Will Tour News
Lindsey is currently on a break from touring after Fleetwood Mac's USA tour
leg wrapped up in Las Vegas on the 18th October.

The Say You Tour tour now moves to Europe with the first gig in
Frankfurt, Germany on the 9th Nov


September 2003

Lindsey in Guitar Magazine
Lindsey appears on the cover of the Oct Issue of Acoustic Guitar


See the article here
Lindsey Solo Concert
Lindsey performed a concert for Soundstage on
Monday, September 15, 8:00 pm with special guest 'Stevie Nicks'

The set list was as follows:

Someone's Gotta Change Your Mind
Steal Your Heart Away
Big Love
Go Insane
Trouble
Peacekeeper
Red Rover
Never Going Back Again (With Stevie)
Say Goodbye (With Stevie)
Murrow Turning Over In His Grave
Go Your Own Way
I'm Waiting (Rolling Stone cover)
Down On Rodeo
Bleed To Love Her
Save Me A Place

All songs were performed twice except Big Love,
Save Me A Place and Bleed To Love Her.

Save Me A Place and Bleed To Love Her were audience requests.
Expect this concert to be broadcast on PBS in the USA soon,
dates to follow

Lindsey on the Charlie Rose Show
Lindsey Buckingham appeared on the Charlie Rose Show on PBS on the 3rd September
You can steam the broadcast at this link

August 2003

Lindsey in Studio
On the 27th August Lindsey was played the 5:1 Mix of Tusk from Ken Caillat.
Ken is currently mixing the Tusk and Fleetwood Mac albums for DVD-A release
in 5:1 sound quality

Fleetwood Mac Tour News
Lindsey is currently on a break from the successful 'Say You Will' tour with
Fleetwood Mac, the second leg on the tour commences at Mississippi Coast Coliseum
at Biloxi, MS on the 6th Sept 2003.
Check out the Say You Will tour page for more details

July 2003
Lindsey in the Oregonian
Lindsey gave an interview to The Oregonian
Lindsey and Fleetwood Mac extend tour
The 'Say You Will' tour has been extended into a World Tour with dates now
scheduled in the UK, Ireland and Germany.
For more details and UK venue seating charts please see
the Say You Will tour page

June 2003

Lindsey in the Chicago Tribune
Lindsey gave a Question & Answer session
to the Chicago Tribune
Lindsey in the Father Day's edition of
People Magazine June 16th 2003
LINDSEY BUCKINGHAM AND LEELEE
The Fleetwood Mac singer, 53, suffers no bad-hair days when he's around Leelee, 2. "They go to the mirror and do his hair together," says Buckingham's wife, Kristen, 33. Kids "make you strike a different balance in terms of your priorities," says Buckingham. "Things that used to drive me crazy now seem quite small."
May 2003

Lindsey Touring
Lindsey is currently touring with Fleetwood Mac
in support of 'Say You Will'
Check out the Say You Will Concert page to see the dates
Check out the Pittsburgh Show Pictures


Lindsey Radio Interview
Lindsey was on Mix 102.9 Radio in Dallas, TX,
read the interview transcript here

Lindsey Magazine Articles
Lindsey appears in the following magazines
Guitar One - June 2003
Guitar World - June 2003
Performing Songwriter - May 2003
Guitar Player - April 2003
Guitar World Acoustic - No. 58

Lindsey Radio Interview
Lindsey gave a radio interview to KFOG on the 24-04-03

April 2003

Lindsey appeared on the Today Show live concert
Lindsey appeared on the Today Show live concert series on 18th April 2003
See this link to view the concert
Fleetwood Mac release 'Say You Will'

Clink the album cover to buy this album



Click this link above to buy the DVD-A Version
What's the World Coming To LYRICS
Murrow Turning Over in His Grave LYRICS
Illume LYRICS
Thrown Down LYRICS
Miranda LYRICS
Red Rover LYRICS
Say You Will LYRICS
Peacekeeper LYRICS
Come LYRICS
Smile at You LYRICS
Running Through the Garden LYRICS
Silver Girl LYRICS
Steal Your Heart Away LYRICS
Bleed to Love Her LYRICS
Everybody Finds Out LYRICS
Destiny Rules LYRICS
Say Goodbye LYRICS
Goodbye Baby LYRICS
For more detailed info on this album please see this link
Late 2002

Update on new Fleetwood Mac album
It now seems likely that Lindsey's forth (as yet unreleased) solo album has been submerged into the new (as yet untitled) Fleetwood Mac studio album which is slated for release in Spring 2003 on Reprise Records.

Minor details are being released in short news clips and so far the tracks "Come" and "Peacekeeper" from Lindsey have been mentioned as appearing on the new Fleetwood Mac album as well as the Stevie Nicks tracks "Say You Will", "Illume" and "Thrown Down".

Initial reports suggest that this album may indeed be a double album.
Expect a World Tour to follow after the album release date.

For more ground breaking news please keep checking the following news pages

http://www.fleetwoodmac-uk.com/albums/sayyouwill.html
Summer 2002

Fleetwood Mac release new Greatest Hits album
Lindsey appears on the new "Very Best Of Fleetwood Mac"

Clink the album cover to buy this album

UK Release (14th Oct 2002)
USA Release (21st Oct 2002)
Buy this CD here
Buy this CD here
The Very Best of Fleetwood Mac (UK version)
The Very Best of Fleetwood Mac (US version)
Track List :- Go Your Own Way, Don't Stop, Dreams, Little Lies, Everywhere, Albatross,
You Make Loving Fun, Rhiannon, Black Magic Woman, Tusk Say You Love Me, Man Of
The World, Seven Wonders, Family Man,
Sara, Monday Morning, Gypsy, Over My Head, Landslide, The Chain, Big Love (Live From The Dance)
Track List :- Monday Morning, Dreams, You Make Loving Fun, Go Your Own Way, Rhiannon, I'm So Afraid (live), Silver Springs, Over My Head, Sara, Never Going Back Again, Sara, Love In Store, Tusk, Landslide, Songbird, Big Love (live), Storms. Disc Two: The Chain, Don't Stop, What Makes You Think You're The One, Gypsy, Second Hand News, Little Lies, Think About Me, Go Insane (live), Gold Dust Woman, Hold Me, Seven Wonders, World Turning, Everywhere, Sisters Of The Moon, Family Man, As Long As You Follow, No Questions Asked, Skies The Limit, Paper Doll.
CD1 is a enhanced CD with documentary, lyrics, discography and web-links.

Lindsey still in the studio
Lindsey is still in the studio working on the new Fleetwood Album,
no confirmed news on the release date as of yet.
See this link on our sister site for more info
March 2002

Lindsey to guest on new Tom Petty album
Lindsey is reported to be making a guest appearance on the new
Tom Petty & the Heartbreakers album. Release date is Oct 8th 2002
Lindsey appears on one track "The Man who Loves Women"
Read the entire article from Rolling Stone Magazine here

Clink the album cover to buy this album
December 2001

Lindsey Buckingham appears on
ABC on the New Year's Eve Show
Lindsey Buckingham appeared on a New Year's Eve show hosted by Peter Jennings on ABC. Lindsey performed a tribute to George Harrison where he played his rendition of "Here Comes The Sun".
November 2001

Lindsey to appear at the Stevie Nicks & Friends concert for the Arizona Heart Benefit
Lindsey appears at the Stevie Nicks & Friends concert for the Arizona Heart Benefit, where he performs "Landslide" w/ Stevie, "Big Love", "Go Insane" and a new cover of the Bob Dylan song "Love Minus Zero" with Mick Fleetwood.
See the details of the event on the Nicks Fix or on the AHI website.
Lindsey's Behind The Music airs on VH-1 in the USA
Premiered on Sunday 11th November and repeatable shown throughout November.
No details on international showings.
May 2001

Release of Rumours on DVD

Fleetwood Mac's album from 1977, Rumours, has been remixed and has been released on DVD. For DVD visuals, photographs from the Rumours recording session flash on a TV screen if the DVD player is connected for video. There's also a short audio documentary on the making of the record, featuring interviews with the band members.
Read the full story here
Release Date - May 29th 2001 Worldwide



Clink the album cover to buy this album
New Lindsey song on the Glaad Media Awards CD from Reprise.
A new unreleased song from Lindsey Buckingham "Someone's Gotta Change Your Mind" is featured on a promotional CD from Reprise to accompany the 12th Annual Glaad Awards.
The CD can be obtained by entering into a
competition on the Reprise Web Site.
http://www.repriserec.com/contests.html

Lindsey appears on Stevie Nicks's new album
Lindsey plays on one track "Miss You" on Stevie's new Reprise release "Trouble In Shangri-La" which is released on May 1 in the USA.
See the Trouble In Shangri-La Info Page here



Clink the album cover to buy this album
April 2001

Lindsey to appear on VH-1 Specials this year
The final edit of the Behind the Music special will likely be next week. Its debut has been delayed though from April 22nd to July 1st. The speculation (and it is really only that) is that it might be to coincide more closely with an album release. It does not look like there will be a VH1 Storytellers special anymore for Lindsey.
The Behind The Music show will contain new interviews from Stevie, Mick, and Ken Caillat. At the end of the show, Lindsey performs a few of his new songs
(News Items courtesy of Marty Adelson at The Penguin Website)
January 2001

Lindsey performs with Fleetwood Mac at the White House
On the 6th January Fleetwood Mac (minus Christine) performed at a surprise party for the out-going US President Bill Clinton.
They performed an hour long set comprising of - "Don't Stop, The Chain, Dreams, Tusk, Rhiannon, Big Love, Landslide, Gypsy, I'm So Afraid, Gold Dust Woman, Go Your Own Way".
For further details see this interview with Lindsey

Year 2000

Release of Gift Of Screws by Lindsey Buckingham
According to the Reprise home page the new Lindsey Buckingham album
"Gift Of Screws" will not be released until the year 2000.
These songs may appear on the album;
"Wear You Down, Come, Try For The Sun, Someone's Gotta Change Your Mind, Miranda, Gotta Get Away, Down On Rodeo, Hit & Run, Red Rover, Bleed To Love Her (different version than The Dance), Steal Your Heart Away, She Smiled Sweetly, My Little Demon" (different version than The Dance).
Update - This release has been put back, now probable after the new album and tour from Fleetwood Mac which is scheduled for late Summer 2002
Update 2 - See the Gift Of Screws Unreleased Album Info Page
October 2000

Lindsey Buckingham appears on a new
John Stewart album
On October 10, Appleseed released John Stewart's new album "Wires From The Bunker" (APR 1047), a compilation of 18 songs recorded between 1981-1983, after the "Gold" rush of John's 1979 hit single co-produced by Lindsey Buckingham had worn off and John and the RSO label were parting company. Lindsey guests on the rocking lead-off track, "American Way", playing lead guitar and singing backing vocals. He is also the subject of another song on the CD, "Liddy Buck", written by John as a return tip of the hat to Lindsey, whose "Johnny Stew" salutes John on "Law And Order". According to John's liner notes, "It's about this time in his life when they were recording the "Tusk" album and he was deliberating leaving the band if he couldn't record some tracks on his own. I tried to simulate a Lindsey-esque track as best I could as an homage to him. He always was and will continue to be a great inspiration to me." Pretty humble words from someone Lindsey acknowledges as a big influence on him!
Listen to "American Way" in Real Audio
(Source : Appleseed - Date : October 18, 2000)
(news item courtesy of Dirk Faes at the www.fmlegacy.com)

Clink the album cover to buy this album
September 2000

Lindsey to appear at the Stevie Nicks & Friends concert for the Arizona Heart Benefit Gig
On September 23, 2000 , Lindsey joined Stevie Nicks at her benefit concert for the Arizona Heart Institute at the America West Arena in Phoenix, where he performed "Big Love," "Go Insane" (both of these songs were dedicated to Stevie), "Landslide" (w/ Stevie) and "Gypsy" (acoustic version w/ Stevie).
July 2000

New Lindsey rendition of "Big Yellow Taxi"
Lindsey contributes a song to the upcoming Joni Mitchell tribute album which is scheduled for release this winter. Lindsey does a cover of the song "Big Yellow Taxi", one of Joni's classics, and we can already tell you that he did a fantastic job,
but what else would we expect.
(Source: Reprise website - Date : July 29, 2000)
Update - This release is STILL waiting, any updates to follow
June 2000

New Lindsey Songs on Soundtrack to "Wild California"
There are three Lindsey songs, under which one new song, in the new Imax theatre movie "Adventures in Wild California". Through a myriad of exciting and touching personal stories, the film reveals how the wild lifestyles of California culture are influenced by the untouched California wilderness that surrounds them. The songs which you can hear in the movie are "Go Your Own Way", "Steal Your Heart Away" and a new song (probably) called "Twisted Fate".
(Source : Wild California and The Penguin Date : June 7, 2000)
(news item courtesy of Dirk Faes at the www.fmlegacy.com)
---