Deep Dish
Dreams (featuring Stevie Nicks)
Released April 17th 2006 in the UK
Single CD Single

Double CD Single

1. Dreams
2. Say Hello - Deep Dish
3. Dreams
4. Dreams
5. Dreams
6. Dreams
7. Dreams

CD One:
1. Dreams - Radio Edit
2. Say Hello - Rock Mix - Previously Unreleased

CD Two:
1. Dreams - Radio Edit
2. Dreams - Extended Club Mix
3. Dreams - Axwell Remix
4. Dreams - Tocadisco Remix
5. Dreams - Miami Calling Remix
6. Dreams - CD-Rom Video

DEEP DISH featuring STEVIE NICKS Dreams (taken from their album 'George Is On' and was recorded
at the legendary Village studio in Los Angeles with vocals by the Fleetwood Mac legend Stevie Nicks
** released 17 April 2006 **
---
Lindsey Buckingham: Soundstage
UK DVD Release on Apr 24th 2006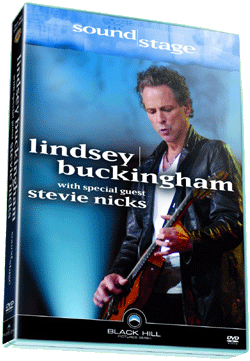 Order this DVD from Amazon UK

The UK release has the same track list as the USA release but has
some additional extras:
Biography
Discography
Soundstage Information
---
PBS Soundstage to air on the 8th Sept 2005

Lindsey's management has given their final approval for his PBS Soundstage to air in September.
Soundstage will make its debut on PBS Thursday, September 8th, 2005.

You can visit PBS.org to check when your local PBS station will air the concert. Although September 8th is
the first day PBS will be airing Lindsey's Soundstage, each local PBS station has it's own schedule for
Soundstage, so all stations may not air on that date. Check your local listings.

Info taken from Lindsey official site

---
Up and Coming Release News

Best Of Stevie Nicks
Rhino Records are reporting that a new best of compilation CD from Stevie Nicks will be
released in the US on Tues 7th June 2005. No info on UK release as of yet.
Release postponed, no additional info at present

Stevie Nicks - Storytellers DVD
Rhino are also reported to be releasing the 1998 Storytellers episode that featured Stevie Nicks
for release on Tues 7th June 2005 in the US. Reported UK release is 4th July
UPDATE: This release has been postponed indifferently by Warner Vision
Release postponed, no additional info at present

Lindsey Buckingham Solo Album
Billboard have reported that Lindsey is working on an end of 2005 for the release of his
latest solo work.
Read more here....
---
Stevie Nicks - Live Concerts in 2005
Stevie Nicks performed live dates as a solo artist and with Don Henley as
part of the 'Two Voices' package in the Summer 2005

Read about the shows, set lists, dates at the dedicated concert page here

---
Selections from Live in Boston Vol. 2 - EP
Fleetwood Mac


Available only on real Rhapsody online store
---
Selections from Live in Boston Vol. 1 - EP
Fleetwood Mac

The Chain
Say You Will
Never Going Back Again
Don't Stop




Release Date: 06 Jul 2004
Genre: Rock
(P) 2004 Reprise



Available on Apple iTunes Music Store
Both the UK and US stores carry this EP
and real Rhapsody online store
---
Santa Claus Is Coming To Town released to
radio in the USA


Chris Isaak's duet with Stevie Nicks, 'Santa Claus Is Coming to Town," is the lead single from Isaak's Christmas album. The song has been serviced to Adult Contemporary radio stations in the U.S. and Canada for play during the holiday season. AC stations typically begin to switch over to Christmas music in the second week of December.

The album "Christmas" also includes the duet with Stevie Nicks and can be brought now from Amazon.co.uk,
click the album cover below to order and for more info....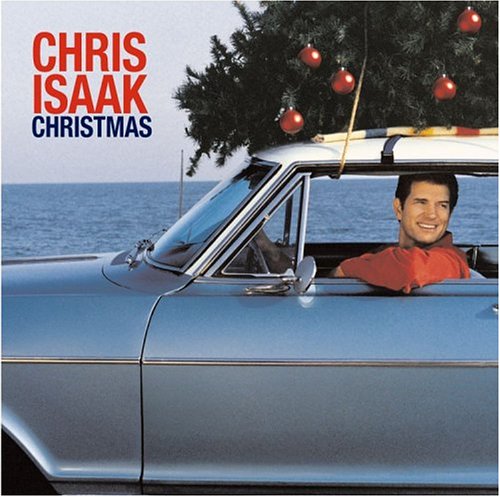 Chris Isaak Christmas Premieres on PBS (US TV)


Chris Isaak Christmas, a production of PBS SoundStage, premiered on affiliate stations in the U.S. on Thursday, December 2.

The holiday program, featuring guest appearances by Stevie Nicks, Brian McKnight and Michael Buble, coincides with the album release of Chris Isaak Christmas, which was released in October. The holiday album features original and traditional arrangements, as well as a duet with Stevie Nicks on "Santa Claus Is Coming to Town."

PBS will be airing Chris Isaak Christmas throughout the month of December. Check local PBS listings for specific airdates.
---
Mick Fleetwood Band
Something Big
Order your copy here

Released
28th Sept 2004 in the US
27th Sept 2004 in the UK
1. Bitter End
2. Something Big
3. Where the Wind Blows
4. It's Only Money
5. Walking With The Angels
6. Making Other Plans
7. These Walls
8. Looking Into You
9. Passion
10. No Borders
11. Watching Over You
12. Heaven Sent

Sanctuary Records will release an album by The Mick Fleetwood Band called Something Big.

This album is Mick's third solo outing and was recorded over the last few years. The band is
a 3 piece one with contributions by such luminaries as John McVie, Jackson Browne,
and Jeremy Spencer. Expected release date is for September 28 in the US and
September 27 in the UK.

http://www.musictap.net/
---
Stevie to Perform in New Holiday SoundStage

Stevie Nicks is scheduled to participate in a special holiday taping of PBS's SoundStage with Chris Issak and
Michael Bublé on September 23. Tickets for the holiday taping are available with a membership contribution to WTTW11 in Chicago, the PBS station that produces SoundStage.

Soundstage Holiday Taping with Chris Isaak
and special guests Stevie Nicks and Michael Bublé

Thursday, September 23, 8:00 pm
$125.00 per pair - Silver Circle - Main Floor Rows 1-5
$75.00 per pair - General - Seating Adjacent to Stage

Tickets to Soundstage concert tapings are available with a membership contribution to WTTW11 (on a credit card). For more information and to make a pledge, call 773-509-1111, option 6. You must be at least 18 years of age to take advantage of this tax deductible, membership opportunity.

News posted on Stevie-Nicks.info
Soundstage Link: http://www.pbs.org/wttw/soundstage/
---
Christine McVie Radio Interviews
on USA Radio

Sometime next week (w/b 30th Aug) THE FOX FM will be interviewing Christine McVie live,
and playing songs off of her album, here's the link to listen:
http://www.thefox.com/listen/index.html

Not sure what exact date and time the interview starts, updates to follow
Thanks to Claudia for the heads up on this, hopefully someone can catch this and record it.

--

Christine also phoned in a radio interview to the Bob and Tom show http://www.bobandtom.com
on Wednesday 31st August. The interview can be heard via the archive area of the Bob and Tom website,
please note that this is a member only benefit on their website.

UPDATE: Thanks to Michelle the Christine Sequence from The Bob and Tom show (10mins) will be
posted here at GYOW - http://www.fleetwoodmac-uk.com/songofthemonth.html

--

Christine gave an interview to Debbie Calton of Philadelphia Radio 102.9 MGK on 4th Sept 2004
Expect the interview to be re-posted on the radio website sometime soon
- http://www.wmgk.com/music/audio_room.shtml
---
Stevie Nicks - Appears at Benefit Show
Huggy Bears Invitational benefit concert - 29th August 2004

According to the NY Post, Stevie Nicks performed with Don Henley and Roger Waters at this years
Huggy Bears Invitational benefit concert. The concert was held as a weeks worth of tennis
tournaments came to a close with the final to be played today (Sunday 29th).

The show line up included Don Henley who organised the nights events, Fleetwood Mac's Stevie Nicks
and Roger Waters. The concert was a very private affair with no tickets being made available to the public.
The concert was held at Tony Forstmann's, Cobb Road estate in the Hamptons NY

The concert set included "Witchy Woman," "Hotel California" (Henley), "Leather and Lace"
(Nicks with Henley) and "The Wall" (Waters with Henley).

See the links to for additional details:
- http://www.nypost.com/news/regionalnews/29528.htm
- http://www.nypost.com/entertainment/29595.htm
- http://www.brain-damage.co.uk/news/0408311.html
---
Radio Interviews
Lindsey gave two radio interviews to LA based radio stations on the 16th June 2004
The radio stations were as follows:

Arrow FM 93.1
KLOS 95.5 (with Mark and Brian)

http://www.bluewhitefire.com
have posted the audio clips

---
Destiny Rules DVD Available to order
The 2003 Fleetwood Mac documentary n the making of Say You Will is available to order
on DVD (NTSC, region 0), this DVD is not available in the shops and can be ordered
either as single DVD or a or DVD Boxset with the US release (region 1) of Live in Boston
---
Fleetwood Mac Soundstage DVD

Release and Television Premier Dates

The Fleetwood Mac's Soundstage performance (recorded in Boston last September) is scheduled to be
released on June 15th in the USA and July 19th in the UK

Click this link to buy the UK PAL region2 DVD
This release contains 2 DVDs and a CD of the live show

DVD1: The Chain / Dreams / Eyes of The World / Peacekeeper / Second Hand News / Say You Will /
Never Going Back Again / Rhiannon / Come / Gypsy / Big Love / Landslide.

DVD2: Say Goodbye / What's the World Coming To / Beautiful Child / Gold Dust Woman / I'm So Afraid /
Silver Springs / Tusk / Stand Back / Go Your Own Way / World Turning / Don't Stop / Goodbye Baby.

CD: Eyes of the World / Dreams / Rhiannon / Come / Big Love / Landslide / Silver Springs /
I'm So Afraid / Stand Back / Go Your Own Way.


A two hour version of the concert will also be televised on PBS in June 2004. (US TV only)
To locate your local airdates to go to:
http://www.pbs.org/wttw/soundstage/airdates.htm
And type in your zip code and it will show you every time the show will air in
your market (including repeats).

The Press Release from Reprise can be found at this link

The trade article can be viewed at this link
---

Christine McVie new Solo Album
'In The Meantime'
Pre-Order Your Copy here

Released
21st June 2004 in the UK
27th July 2004 in the US
Track List
Anything Is Possible
You Are
Northern Star
Bad Journey
Friend
Calumny
So Sincere
Easy Come, Easy Go
Liar
Sweet Revenge
Forgiveness
Givin' It Back
---
Unbroken Chain Documentary
Set for DVD release

A new Fleetwood Mac documentary from Passport Entertainment and
Koch Vision Entertainment is set for DVD release in the USA on the
13th July 2004

Click this link to order from Amazon USA
(Region One DVD)
---
Lindsey guests on Vanessa Carlton's album 'Harmonium'

Lindsey plays on Vanessa Carlton's forthcoming album 'Harmonium', due in June,
Lindsey plays acoustic guitar on what s probably the first single 'White Houses'

---

Fleetwood Mac: Destiny Rules

VH-1, Sunday Mar. 14 9/8c PM US TV ONLY

Click for full size image

Starting in the fall of 2001, filmmakers Matt Baumann and Kyle Einhorn follow Fleetwood Mac's
every move as they reunited (sans Christine McVie) to record their first new studio album in 15 years.

Culled from over 500 hours of footage, the documentary follows the band members as they record Say You Will and prepare for a world tour. Cameras, including a few hidden ones, rolled almost nonstop from
Stevie Nicks's first day in the studio until the band walks onstage for its first show a
year and a half later.

Fleetwood Mac: Destiny Rules captures the ups and downs of a legendary band like no other documentary before ... and proves that time doesn't always heal all wounds.
Unfortunately we have no dates for UK / Europe airing of this show

You can currently view the documentary online at the following sites:
http://www.crystalvisionsdesigns.com/steviesounds.html
http://www.burnish.net
---
Fleetwood Mac on New Year's TV Show

Fleetwood Mac performed Second Hand News on the Dick Clarke
NYE's show which was shown on ABC (US TV only).
The clips were recorded at the Boston show in Sept 2003


http://abc.go.com/specials/new_years_2004.html
---
Fleetwood Mac on UK Top of the Pops 2
Two promomotional live clips were shown on the 16th December's edition of the BBC2 music program
'Top Of The Pops 2', these clips were of Peacekeeper and Say You Will, the clips were probably recorded
at the tour rehearsals for the Say You Will tour

See screen grabs of the Say You Will promo live clip below



Click for full size image

---
UK Single release of Peacekeeper
Peacekeeper has been remixed by Tin Tin Out and is expected to be
released on Monday 24th Nov 2003



Track List

Peacekeeper (tin tin out remix)
Peacekeeper (album version)
Smile At You

UPDATE: 24th Nov has been and gone and no release
No news as to whether this remix and single will be released in the UK

---
New singles released to US radio /
USA TV Shows Appearances
---
American Music Awards
Fleetwood Mac won the "Favourite Band, Duo or Group — Pop or Rock 'n Roll Music"
at the American Music Awards on the 16th Dec

The MAC performed Peacekeeper as a recorded piece from Hamburg, Germany

This is being shown on UK TV on Thursday 20th Nov on Living TV at 22.00

---
Stevie Nicks at the Radio Music Awards
Stevie presented the Legend Award to Tom Petty and the Heartbreakers at the
2003 Radio Music Awards on October 27th 2003. Stevie said of Tom
"He not only started out as my greatest musical influence, but today
he's still my greatest musical influence".




Click for full size image

---
Christine McVie collects awards for
'Rumours'
Christine McVie collected the award for the legendary album for 'Rumours' from the first-ever Capital Gold Legends Awards which were held on Friday 26th September at the
Hilton London Metropole, London, UK


LEGENDARY ALBUM
Rumours - Fleetwood Mac
---
Fleetwood Mac recorded for PBS
On September 23rd, as part of the PBS TV taping, Fleetwood Mac played a special performance in Boston at the Fleet Center, the night before the regular Boston show. There was an invited audience of less than 1,000 people.

---
Fleetwood Mac - USA TV Appearances in April 2003
Fleetwood Mac has just been scheduled to appear on
The Tonight Show with Jay Leno on Wednesday, April 23rd

---
Fleetwood Mac Fan Club
The fan club is now officially live and can be signed up for at the following address
www.FleetwoodMac.com

Members will gain access to a Virtual Video Tour of the Studio where "Say You Will" was recorded,
special ongoing video and audio from Fleetwood Mac's Artists in a "behind the scenes" style from today
right through the tour and ADVANCE ticket purchase (up to 4 tickets PER VENUE) in both the general
seating and special Members-Only reserved seats! These seats are not available in every venue but will be available for most concerts and include great seats! You'll buy tickets directly through Ticketmaster in advance of the general public "go-up" dates!

---
Rumours
to be inducted into the

Grammy Hall of Fame
Fleetwood Mac's multi-million selling album 'Rumours' is to be inducted into
the Grammy Hall of Fame this year on February 23rd

See this news below item courtesy of Billboard
http://www.billboard.com/billboard/daily/article_display.jsp?vnu_content_id=1803388

And the link on the official Grammy website
http://www.grammy.com/news/academy/2003/0124halloffame.html
---